Microbial Identification Market Size, Share, Industry & Forecast
Market size is expected to develop revenue and exponential market growth at a remarkable CAGR during the forecast period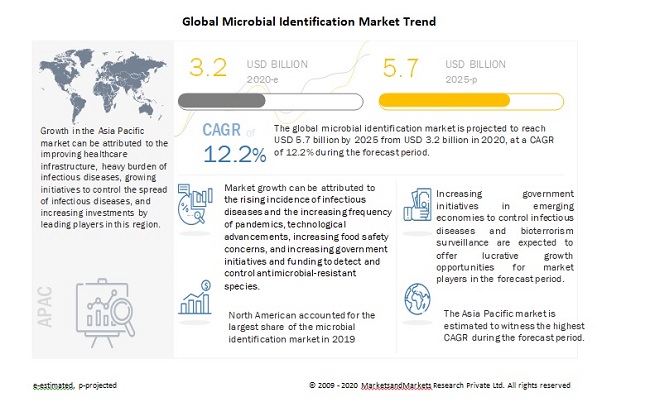 In the world of healthcare and diagnostics, the microbial identification market is experiencing remarkable growth. In 2020, this market's revenue was estimated at $3.2 billion, and it is projected to soar to $5.7 billion by 2025, boasting a remarkable Compound Annual Growth Rate (CAGR) of 12.2% from 2020 to 2025. This surge is attributed to several key factors that are shaping the industry landscape.
Microbial Identification Market Dynamics
Drivers: Rising Incidence of Infectious Diseases and Pandemics
The primary driver behind the exponential growth of the microbial identification market is the increasing prevalence of infectious diseases worldwide. These diseases, which encompass a vast array of pathogens, continue to challenge healthcare systems globally.
Microbial identification plays a pivotal role in human disease diagnosis, offering rapid and reliable results that aid in the prompt administration of appropriate treatments. In regions with limited healthcare infrastructure, microbial identification products are particularly valuable. Astonishingly, about 1,400 pathogens can cause human diseases, with pathogenic bacteria alone responsible for approximately 350 million cases of foodborne illnesses each year in the United States.
The significance of microbial identification becomes evident when considering the staggering statistics: 48 million foodborne illnesses annually in the US, leading to 128,000 hospitalizations and 3,000 deaths, and 1.7 million deaths worldwide due to poor water hygiene, with a disproportionate impact on children in developing countries (NCBI).
Moreover, infectious diseases like Tuberculosis (TB) and HIV continue to claim lives on a global scale. In 2018, 1.5 million people succumbed to TB, while 1.7 million people were newly infected with HIV in 2019, with 690,000 AIDS-related deaths (WHO and UNAIDS).
The world has also witnessed alarming pandemics, such as the Zika epidemic in 2016, the Ebola outbreak in 2014, and the COVID-19 pandemic in 2019–2020. These health crises have driven the demand for diagnostic products, including microbial identification tools, to unprecedented levels. Thus, the persistent threat of infectious diseases and the increasing frequency of pandemics are propelling the growth of the global microbial identification market.
Restraints: High Cost of Automated Microbial Identification Systems
While the prospects for microbial identification are bright, one significant restraint is the steep cost associated with automated microbial identification systems. These state-of-the-art instruments, equipped with advanced features, come with a premium price tag. For instance, a MALDI-TOF-based system can range from USD 150,000 to USD 850,000. Additionally, the consumables used in identification techniques are expensive, and operational expenses add to the overall cost. Rapid tests, a popular choice, typically range from USD 100 to USD 250, significantly more costly than traditional culture methods.
This cost factor becomes particularly prohibitive for smaller institutions and academic research laboratories, which often operate on limited budgets. The maintenance and indirect expenses further inflate the total cost of ownership, impeding the widespread adoption of automated microbial identification systems.
Opportunities: Emerging Economies as Growth Hotspots
A silver lining in the microbial identification market is the burgeoning opportunities in emerging economies. Regions like Asia Pacific, the Middle East, and Latin America remain largely untapped markets compared to their European and North American counterparts. Government initiatives in several Asian countries are fostering market development. Some notable examples include:
The Australian Government's commitment to antimicrobial resistance (AMR) control through Australia's next national AMR strategy.
Thermo Fisher Scientific's establishment of a food safety customer solution center in Delhi, India, to meet the demands of food & beverage laboratories.
India's Ministry of Health and Family Welfare launching the National Strategic Plan (NSP) for Tuberculosis (TB) Elimination (2017–2025), aiming to eliminate TB by 2025.
China's implementation of a National Action Plan (NAP) to Contain Antimicrobial Resistance (2016–2020) as part of global AMR efforts.
These government-led initiatives create a plethora of opportunities for market players to invest and expand their presence in these emerging regions.
Challenges: Complex Regulatory Frameworks
One of the challenges hindering market growth is the complex and lengthy regulatory approval process for new microbial diagnostic tests, particularly in the United States and Europe. The introduction of more stringent regulations in Europe, such as the In Vitro Diagnostic Device Regulation (IVDR), has increased complexity and delayed product launches.
Market Segmentation
Let's delve deeper into the microbial identification market by examining key segments and trends.
Consumables Segment Dominates
In 2019, the panels/ID cards & media segment took the lead in the microbial identification market within the consumables category. Panels, ID cards, and media play a pivotal role in the quick and efficient identification of microorganisms, making them key drivers of market growth.
Mass Spectrometry Reigns Supreme
In terms of technology, mass spectrometry emerged as the dominant player in 2019. Its high speed, specificity, and applicability for a wide range of microorganisms, including bacteria, archaea, and fungi, have contributed to its market dominance. The increasing adoption of MALDI-TOF technology further supports its growth.
Hospitals and Diagnostic Laboratories Lead
Among end-users, hospitals, diagnostic laboratories, and blood banks emerged as the frontrunners in 2019. The high prevalence of infectious diseases and periodic pandemics underscore the critical role these institutions play in microbial identification.
North America Leads the Way
North America held the largest market share in 2019, closely followed by Europe. Technological advancements, rising infectious disease prevalence, growing food safety concerns, and the presence of major industry players collectively contribute to North America's market leadership.
Conclusion
In conclusion, the microbial identification market is on an impressive growth trajectory, fueled by the persistent threat of infectious diseases, the high demand for advanced diagnostics in the face of pandemics, and the untapped potential of emerging economies. While challenges such as high costs and regulatory complexities exist, the opportunities are vast, making this an exciting sector to watch in the coming years.