Leeds out of relegation zone after clinching thriller over Wolves
Leeds United clinched a thrilling 4-2 victory over ten-man Wolverhampton Wanderers at the Molineux Stadium on Saturday afternoon. The result means that Leeds dragged themselves out of the relegation zone as they picked up huge three points in their quest to avoid the drop at the end of the season. The Yorkshire club looked set […] Leeds United clinched a thrilling 4-2 victory over ten-man Wolverhampton Wanderers at the Molineux Stadium on Saturday afternoon. The result means that Leeds dragged themselves out of the relegation zone as they picked up huge three points in their quest to avoid the drop at the end of the season. The Yorkshire club looked set for a comfortable 3-0 win with less than half an hour remaining, but two quickfire goals from the home side ensured a chaotic ending. Rodrigo Moreno scored a controversial goal in the 97th minute to calm the nerves in a whirlwind game. Bright start from Leeds What a start for Leeds United!Jack Harrison has a goal in back-to-back matches and Leeds move OUT of the relegation zone as things stand. ????: @peacock #MyPLMorning | #WOLLEE pic.twitter.com/YrhMgXfrgE— NBC Sports Soccer (@NBCSportsSoccer) March 18, 2023 The visitors took the lead in the sixth minute when Jack Harrison scored with a beautiful strike after being set up by Wilfried Gnonto's darting run and cut back from the left wing. Wolves would consider themselves unlucky not to have a penalty awarded when Junior Firpo caught Nelson Semedo in the box, but VAR didn't deem enough contact to award a spot kick. The hosts upped the ante after falling behind and came close to restoring parity dominating the game with the lion's share of possession. chaotic second half Wolves failed to make their superiority count as they went into halftime a goal behind. Four minutes after the restart, Leeds were 2-0 up, seconds after they had a goal chalked off due to offside. Luke Ayling nodded home from close range after being left completely unmarked by Marc Roca's cross. Two soon became three after the hour mark when Rasmus Kristensen drilled home into the left bottom corner just seconds after coming onto the pitch. It looked like a comfortable victory for the visitors but Wolves got a lifeline five minutes later when Jonny lifted his volley above Leeds goalkeeper Illan Meslier who had initially come out of his box to make a headed clearance. JONNY WITH THE VOLLEY FROM WAY OUT! ????: @peacock #MyPLMorning | #WOLLEE pic.twitter.com/TE0MRHuNW7— NBC Sports Soccer (@NBCSportsSoccer) March 18, 2023 It was 3-2 in the 73rd minute when Matheus Cunha scored off a deflected effort to bring the hosts back into the game as Leeds seemed to have run out of gas. However, the hosts were reduced to ten men in the 84th minute when Jonny was sent off for a studs-on challenge on Ayling. Rodrigo Moreno then calmed the nerves in the 97th minute as Leeds scored from a counter, with Wolves looking to take the gamble and playing further up the pitch. The much-needed victory sees Leeds rise to 14th place with 26 points, 2 clear of the drop zone. Wolves, meanwhile, stay 13th with a point more but have now lost two of their last three home games. Photo Credit: Imago / Action Plus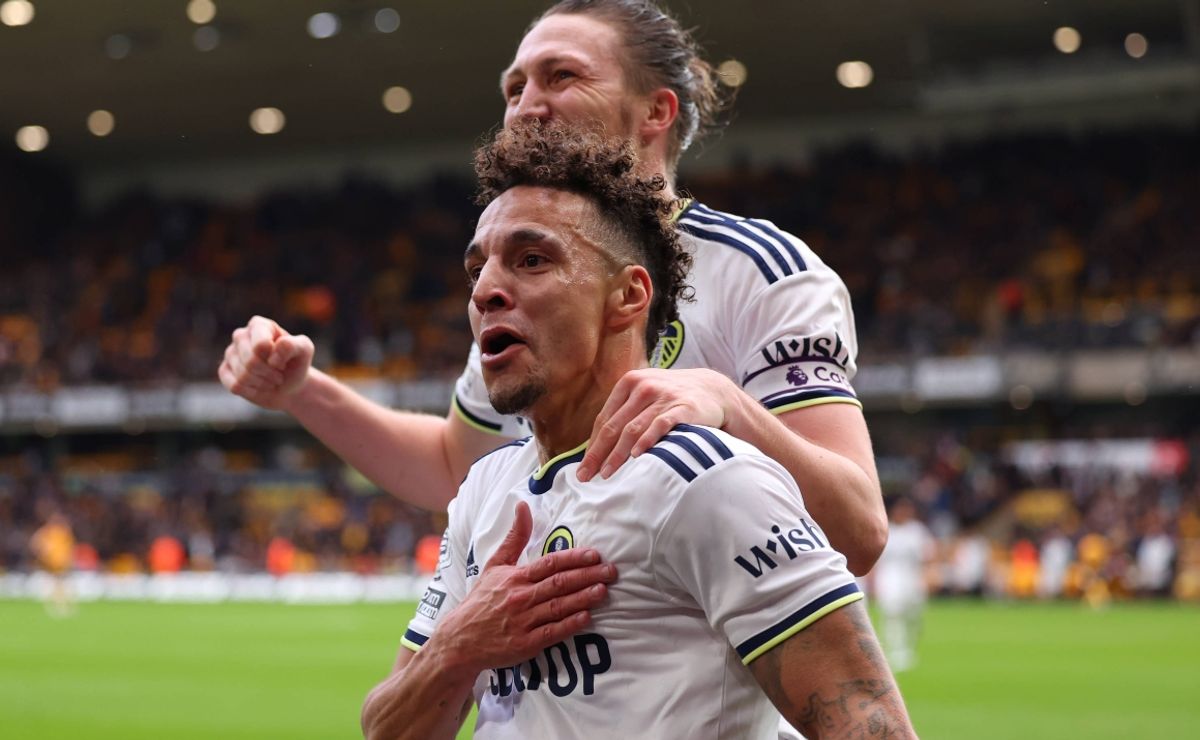 Leeds United clinched a thrilling 4-2 victory over ten-man Wolverhampton Wanderers at the Molineux Stadium on Saturday afternoon. The result means that Leeds dragged themselves out of the relegation zone as they picked up huge three points in their quest to avoid the drop at the end of the season. The Yorkshire club looked set […]
Leeds United clinched a thrilling 4-2 victory over ten-man Wolverhampton Wanderers at the Molineux Stadium on Saturday afternoon.
The result means that Leeds dragged themselves out of the relegation zone as they picked up huge three points in their quest to avoid the drop at the end of the season.
The Yorkshire club looked set for a comfortable 3-0 win with less than half an hour remaining, but two quickfire goals from the home side ensured a chaotic ending.
Rodrigo Moreno scored a controversial goal in the 97th minute to calm the nerves in a whirlwind game.
Bright start from Leeds
The visitors took the lead in the sixth minute when Jack Harrison scored with a beautiful strike after being set up by Wilfried Gnonto's darting run and cut back from the left wing.
Wolves would consider themselves unlucky not to have a penalty awarded when Junior Firpo caught Nelson Semedo in the box, but VAR didn't deem enough contact to award a spot kick.
The hosts upped the ante after falling behind and came close to restoring parity dominating the game with the lion's share of possession.
chaotic second half
Wolves failed to make their superiority count as they went into halftime a goal behind. Four minutes after the restart, Leeds were 2-0 up, seconds after they had a goal chalked off due to offside.
Luke Ayling nodded home from close range after being left completely unmarked by Marc Roca's cross.
Two soon became three after the hour mark when Rasmus Kristensen drilled home into the left bottom corner just seconds after coming onto the pitch.
It looked like a comfortable victory for the visitors but Wolves got a lifeline five minutes later when Jonny lifted his volley above Leeds goalkeeper Illan Meslier who had initially come out of his box to make a headed clearance.
It was 3-2 in the 73rd minute when Matheus Cunha scored off a deflected effort to bring the hosts back into the game as Leeds seemed to have run out of gas.
However, the hosts were reduced to ten men in the 84th minute when Jonny was sent off for a studs-on challenge on Ayling.
Rodrigo Moreno then calmed the nerves in the 97th minute as Leeds scored from a counter, with Wolves looking to take the gamble and playing further up the pitch.
The much-needed victory sees Leeds rise to 14th place with 26 points, 2 clear of the drop zone. Wolves, meanwhile, stay 13th with a point more but have now lost two of their last three home games.
Photo Credit: Imago / Action Plus