Inter win derby to go second in Serie A
Lautaro Martinez's deflected header in the first half gave Inter the Derby della Madonnina bragging rights as they beat cross-city rivals AC Milan by 1-0 at the San Siro on Sunday evening. The Nerazzurri were on top of the reigning Champions throughout the match and dominated every blade of grass on the pitch as they […] Lautaro Martinez's deflected header in the first half gave Inter the Derby della Madonnina bragging rights as they beat cross-city rivals AC Milan by 1-0 at the San Siro on Sunday evening. The Nerazzurri were on top of the reigning Champions throughout the match and dominated every blade of grass on the pitch as they climbed to the second spot in the Serie A standings. Inter however have a lot of catching to do if they are to have any hopes of winning the Scudetto as high-flying Napoli are 13 points clear above them. Milan in freefall Milan however are in free fall as they have lost 5 of their last 6 league games and are winless in 7 games across all competitions having conceded 18 times. AC Milan are winless in their last 7 matches.They have conceded 18 goals. ???? pic.twitter.com/itx1r1Tdvg— CBS Sports Golazo ⚽️ (@CBSSportsGolazo) February 5, 2023 Milan goalkeeper Ciprian Tatarusanu kept out Martinez's brilliant first-time effort in the sixth minute as Inter enjoyed the majority of the possession. The Argentine who has been in stunning form since the end of the World Cup then dragged his diving header inches wide from Milan Skriniar's cross as Milan failed to cope with the constant pressure. Martinez finally scored in the 34th minute from Hakan Calhanoglu's corner as his well-timed header took a deflection off Simon Kjaer to give his side a well-deserved lead. "The man from Argentina is cleaner than Neutrogena."@RayHudson never misses. ???? pic.twitter.com/jDY0RQnoAM— CBS Sports Golazo ⚽️ (@CBSSportsGolazo) February 5, 2023 Despite the changes from manager Stefano Pioli at halftime, with Rafael Leao and Brahim Diaz coming on, Milan looked a shadow of their former self as they failed to create any clear-cut chances. Theo Hernandez failed to hit the target from a well-positioned free-kick while Olivier Giroud's first touch let him down from Leao's well-placed pass following a counterattack. Romelu Lukaku thought he had scored his side's second in the 83rd minute but the Belgian's goal was chalked off for a foul in the buildup. Martinez also had the ball in the net six minutes later but VAR intervened to rule the goal out as replays showed that the World Cup winner had strayed offside leading to his shot. The win takes Inter five points clear of the Rossoneri who remain in sixth place and crisis looming large. Photo credit: IMAGO / Nicolo Campo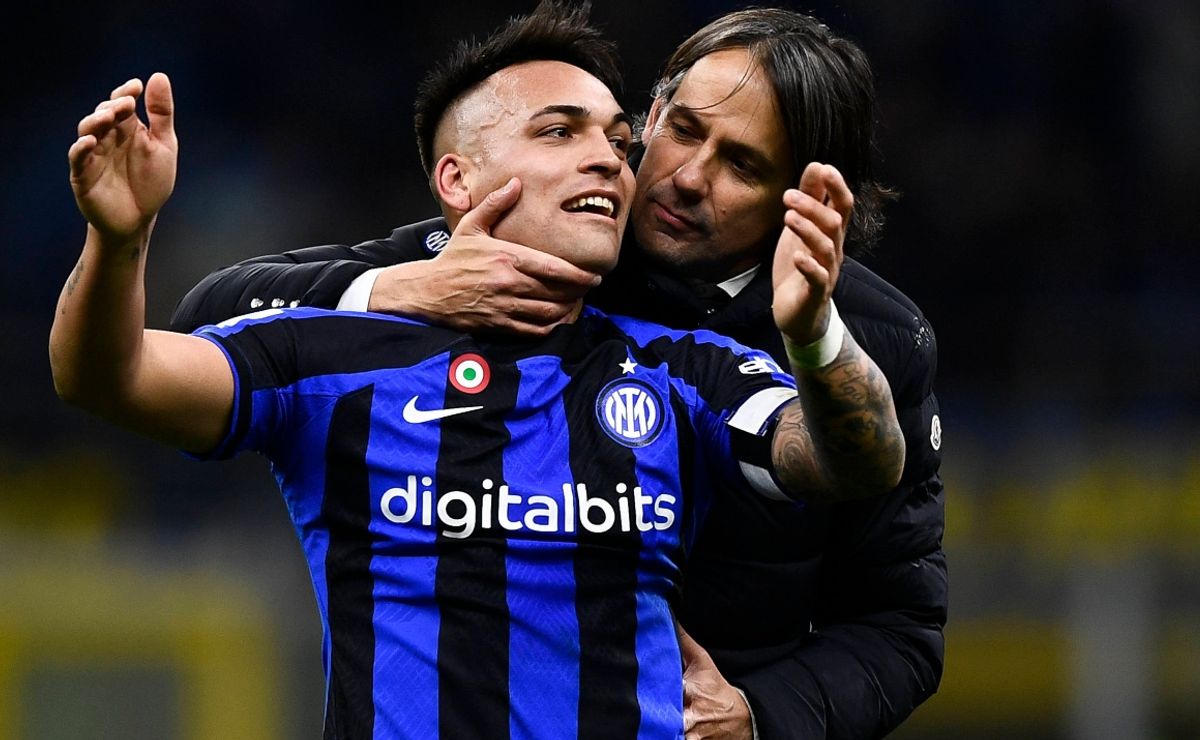 Lautaro Martinez's deflected header in the first half gave Inter the Derby della Madonnina bragging rights as they beat cross-city rivals AC Milan by 1-0 at the San Siro on Sunday evening. The Nerazzurri were on top of the reigning Champions throughout the match and dominated every blade of grass on the pitch as they […]
Lautaro Martinez's deflected header in the first half gave Inter the Derby della Madonnina bragging rights as they beat cross-city rivals AC Milan by 1-0 at the San Siro on Sunday evening.
The Nerazzurri were on top of the reigning Champions throughout the match and dominated every blade of grass on the pitch as they climbed to the second spot in the Serie A standings.
Inter however have a lot of catching to do if they are to have any hopes of winning the Scudetto as high-flying Napoli are 13 points clear above them.
Milan in freefall
Milan however are in free fall as they have lost 5 of their last 6 league games and are winless in 7 games across all competitions having conceded 18 times.
Milan goalkeeper Ciprian Tatarusanu kept out Martinez's brilliant first-time effort in the sixth minute as Inter enjoyed the majority of the possession.
The Argentine who has been in stunning form since the end of the World Cup then dragged his diving header inches wide from Milan Skriniar's cross as Milan failed to cope with the constant pressure.
Martinez finally scored in the 34th minute from Hakan Calhanoglu's corner as his well-timed header took a deflection off Simon Kjaer to give his side a well-deserved lead.
Despite the changes from manager Stefano Pioli at halftime, with Rafael Leao and Brahim Diaz coming on, Milan looked a shadow of their former self as they failed to create any clear-cut chances.
Theo Hernandez failed to hit the target from a well-positioned free-kick while Olivier Giroud's first touch let him down from Leao's well-placed pass following a counterattack.
Romelu Lukaku thought he had scored his side's second in the 83rd minute but the Belgian's goal was chalked off for a foul in the buildup.
Martinez also had the ball in the net six minutes later but VAR intervened to rule the goal out as replays showed that the World Cup winner had strayed offside leading to his shot.
The win takes Inter five points clear of the Rossoneri who remain in sixth place and crisis looming large.
Photo credit: IMAGO / Nicolo Campo